Heal your space and balance your spirit.
Deep inside each of us is a longing for a sanctuary where we feel empowered to manifest our greatest hopes and dreams.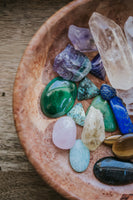 Whether it's the four walls surrounding you or the innermost corners of your soul, your "home" deserves to be a place where peace and prosperity thrive.
Living a high vibe life involves clearing the misaligned energy around you and within you. That energy can feel like a formidable fog that refuses to lift. Or a scrambled restlessness as you journey through life. Other times, your intuition straight-up tells you that something isn't quite right.
By tapping into the vibrational power of crystals and embracing the wisdom of the Divine Universe and ancient healing and spiritual traditions, stagnant energy can transform into radiant positivity. 
Let go of the unwanted negative junk that isn't serving your higher good. It's time to move forward with fresh energy and bring joyful vibes back into your space and your life.
Welcome to your new beginning.
Stones That Heal
Each stone and crystal has its own meaning and power. We invite you to explore and choose those that resonate with your own journey!   
Find a stone